Back to main Blog
Simon Morgan
You asked for it, we've done it! The 'Quick Raise' functionality in our newly added investigations platform, Cases, is now even quicker, more responsive, and more easily accessible to all SureView Response users.

As with many new features, this development was driven by a customer request. They were looking for a way for their operators to immediately add information directly to a Record, even as they were processing the initial event.
Before this feature update, operators could raise an event from Response to Cases, but this new shortcut eliminates the step where they have to click into Cases' separate platform to find the Record—potentially disrupting their focus on the existing event. This improvement allows operators to begin data collection earlier in the process rather than having to back-track to input information after the fact.
So how does it work?
It''s really easy: when an operator determines that a Record needs to be created in Cases for further investigation, they can simply click the "Raise to Cases" button, which gives an additional option allowing them to open the record in a new window and start adding relevant information immediately.

Here's a real-world example:
Let's say there was a medical incident in the main lobby: someone slipped and fell. Operators in the command center raised the event in SureView Response and followed the action plans in order to coordinate a rapid response. They dispatched local guards to the scene and called local EMS for onsite medical assistance.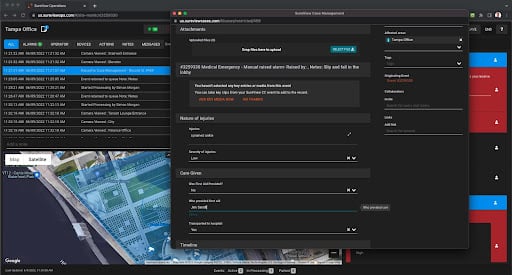 How does it elevate the user experience?
In a situation such as the one above, operators are already required to open a new Record in Cases so that their investigations team can follow-up to track any legal implications. This record requires certain information to be collected, i.e., a description of the person involved, the names of the EMS team members who responded, and which hospital the patient was transported to. The operator already has this information at their fingertips, and now they can add it in straightaway, as the event is unfolding, allowing the investigations team to be involved at the outset. This eliminates a small step, but in the midst of any important incident, time counts. This new improvement to Cases is another way for operations and investigations teams to work together.
Click here to learn more about how Cases incident management platform can help your team.